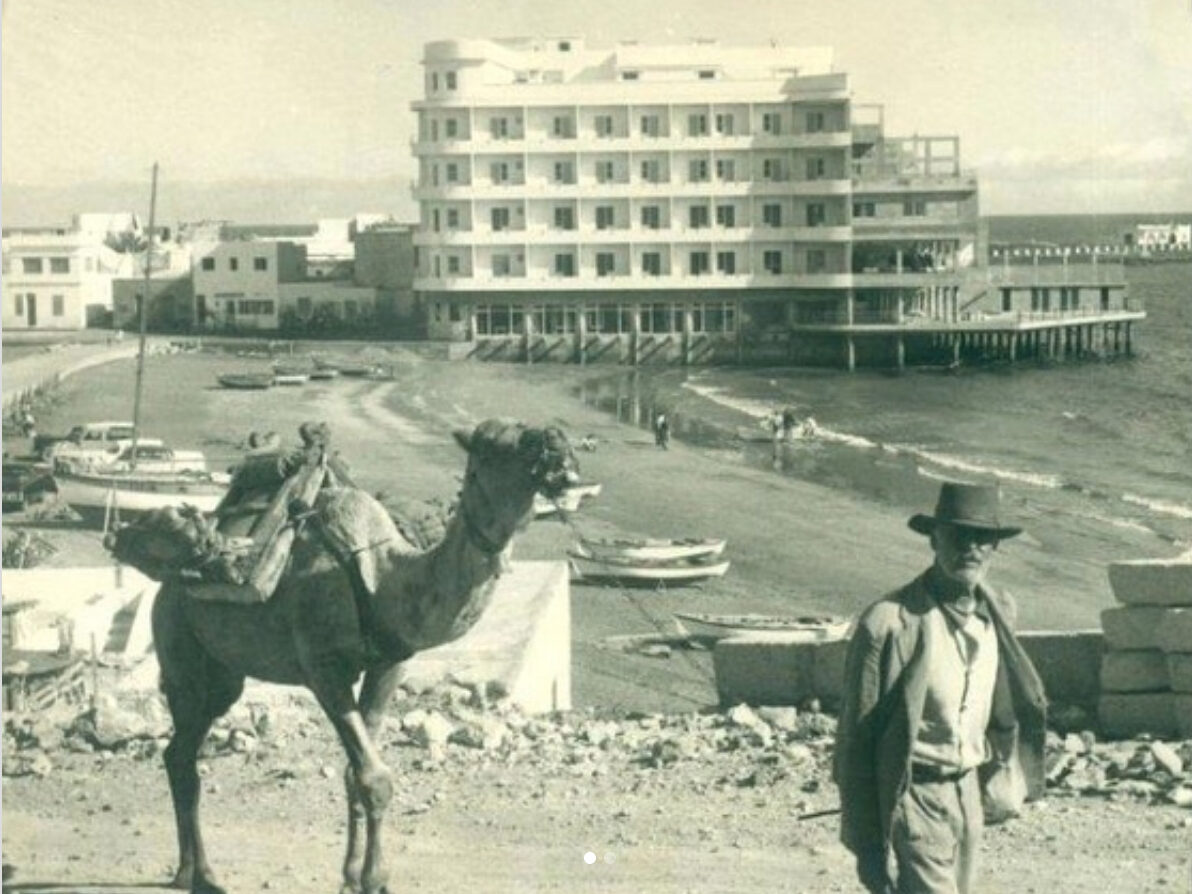 In 1983 Stefan Dietrich came to Tenerife for the first time with his surfing equipment and became aware of El Médano through a surfing newspaper. He wanted to spend some time there and let himself drift, exploring the surfing world in Tenerife and discovering business opportunities. He did not have to worry about money, as he had enough money available due to an inheritance.
At the beginning of the 80's the surfer boom in Germany increased more and more. Europe-wide the surf industry was located in Germany and France. Hawaii was the navel of the surfer world. There the surf material was tested, developed and photographed... there you found the best surfers in the world!
However, a travel agency in Hamburg had discovered El Médano for itself. They offered surf tours to Tenerife and marketed this small fishing village as a surf hotspot.
Two Munich design students, Steffen and Thomas, both passionate windsurfers, also heard about El Médano at the time. They gained their experience with the windsurfing industry and windsurfing scene at Lake Garda. They came to Tenerife with the idea to build up a windsurfing industry in El Médano. They gave up everything in Germany and came with their packed Opel Kadett to El Médano. Their first ideas involved building windsurf boards and creating a fashion brand. They already had the brand name "Canarian Surf" in their minds. But they didn't think the name was perfect yet, something was missing. After a long time of brainstorming, the fashion brand "Fruit of the Loom" triggered the association that they could simply put "Fruit" at the end of their brand. That would sound better and a bridge to fashion would be built. The name was born: Canarian Surf Fruit.
As there were not many 20-year-old surfers in El Médano at that time, the three met each other and became friends. They hung out together, philosophised about their ideas to make Tenerife the European Hawaii, spent the days in the water and in the evenings they partied.
Although more and more windsurfers came to Tenerife, the ideas of the friends were not easy to carry out. Bringing the development of the surf industry to El Médano, testing material, discovering mistakes... plus developing their own brand failed. Stefan D. really tried! He flew to Germany to get test material, but he was not successful. He also flew to Berlin to have their ideas and designs for their fashion line Canarian Surf Fruit produced. But the first production attempt didn't meet with approval, they unfortunately had to wear the clothing themselves. Canarian Surf Fruit produced. But the first production attempt didn't meet with approval, they unfortunately had to wear the clothing themselves.
The surfer clique in El Médano grew bigger and bigger over time. One of Stefan D.'s surfer friends was Gigi, originally from Santa Cruz, whose family had a second home in El Médano. Gigi lived in what is now the Canarian Surf Fruit Shop and his parents lived in what is now the Flashpoint café/restaurant. Thanks to Gigi the mentioned surfer boys were allowed to build and repair their surfboards in his parents' backyard (behind the current Flashpoint). It started very slowly. The boys had built about 10 boards...
...and then everything changed! The small building where Gigi lived was about to be sold. He was going to leave El Médano at his parents' request. Stefan D. saw this chance and bought the little house with his inheritance.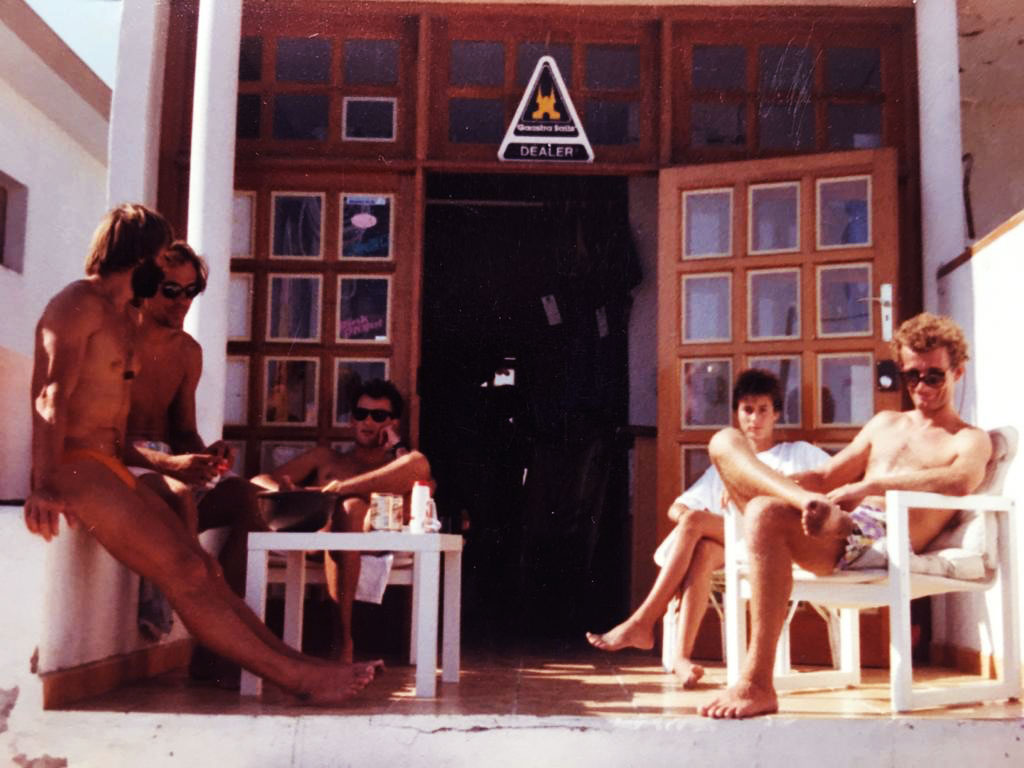 Im vorderen Bereich hatte der Vorbesitzer Gigi bereits einen Klamottenladen, den Stefan zu einem Hardware Windsurfladen (Segel von Gaastra, Neil Pryde, Tampen, Power Joints usw….) umfunktionierte. Er nannte ihn Canarian Surf Fruit Shop. Im hinteren Bereich des Ladens wohnte er.
His two friends and inventors of the name left the island at almost the same time for various reasons. Even today, more than 30 years later, they are still connected to El Médano through the name.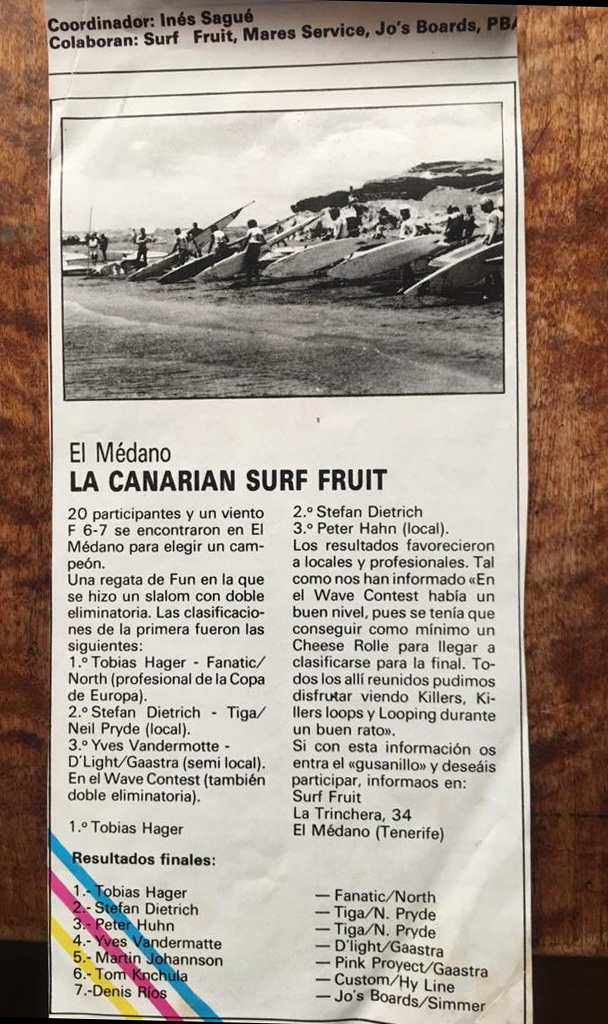 Canarian Surf Fruit was the first surf shop directly on the beach in El Médano in the mid 80's.
Some time later Stefan D. also bought from Gigi's parents the big house next door. He opened a bar there with friends and called it Canarian Surf Fruit Bar, today's Flashpoint.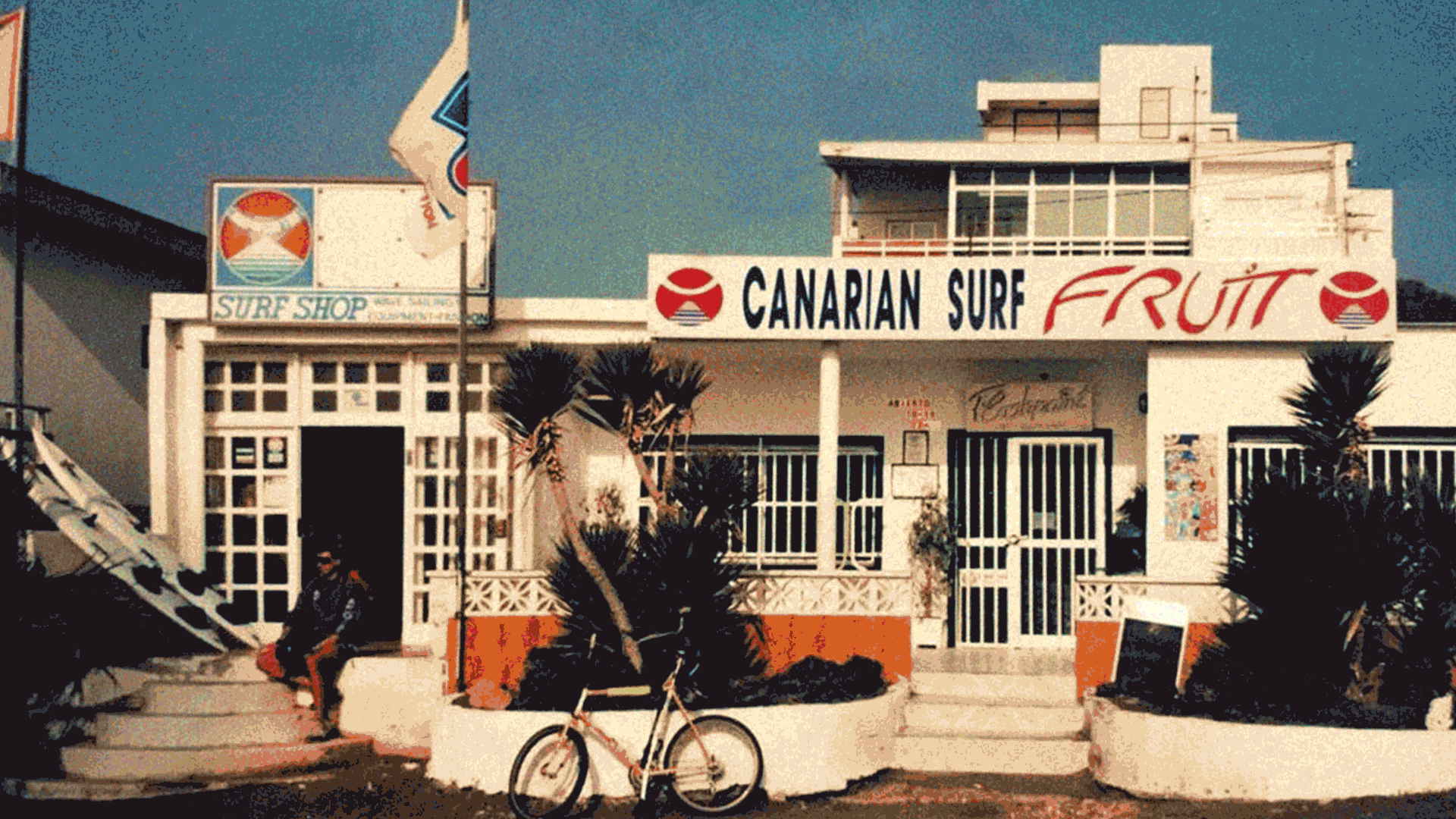 In 1988 Jürgen Tillmann came to El Médano with his wife Susanne - a year's break was planned. He always had his travel sewing machine with him and wanted to repair sails on the spot to improve his holiday funds. In the past he had always financed his holidays this way. But like everything else in life, also with him some things changed. At the beginning of July 1988 Jürgen opened an official sailmaker's shop in the rear part of today's Canarian Surf Fruit Shop. He repaired and produced custom-made sails for several years. In the front was Stefan's Canarian Surf Fruit Shop, which he had sub-contracted and in the back the sailmaker's shop with a separate entrance. This combination went very well for a few years.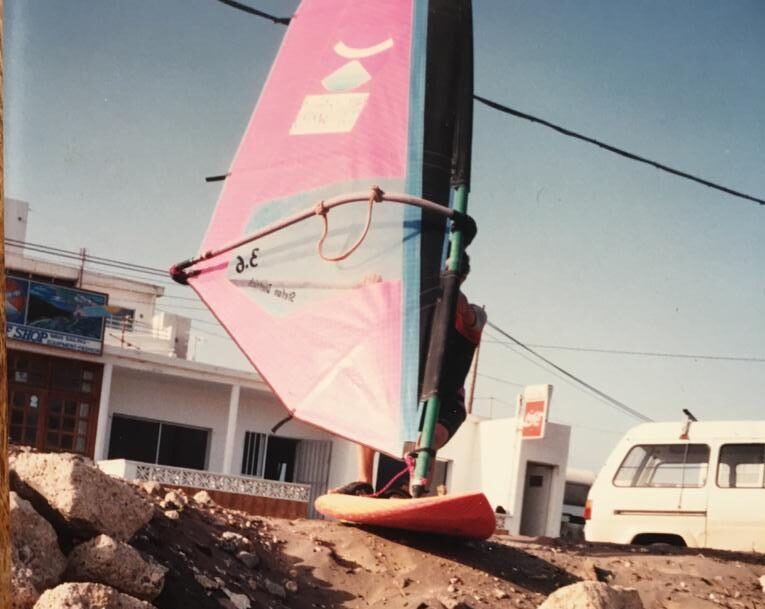 The last major change took place at the end of 1992. Jürgen took over Canarian Surf Fruit. With time the sail-making business was neglected and then closed down completely. The building underwent a major renovation and the Canarian Surf Fruit as we know it today was born.